Corn Flake Chicken Breasts
riffraff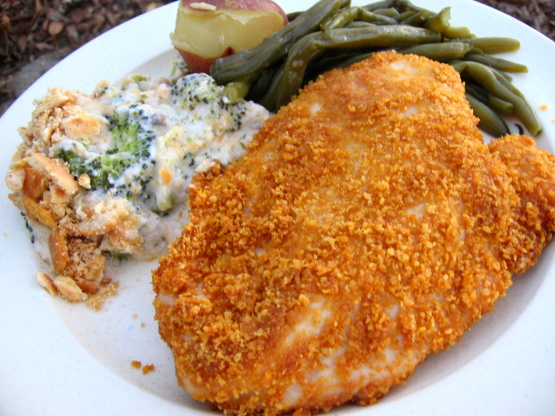 The corn flake crumbs make these chicken breasts taste great. A tad bit different than we are all used to, but good none the less.
Delicious! However, next time I would prefer cutting the chicken into bite size pieces because when cutting into the chicken, the breading just comes right off. I also added seasoning salt before putting it into the oven. Enjoyed this with some honey mustard and loved it. Will make again.
Pound Chicken breasts thin. (or however thick you like)
Dip each chicken breast in egg, flour and then roll in corn flake crumbs.
Place on greased baking pan and bake at 350 for about 45 minutes, or until chicken is not pink in middle of thickest piece.
You may add chicken seasoning, or salt and pepper to taste, if you think it needs some flavor. This is great served with mashed potatoes and green beans.