CandyTX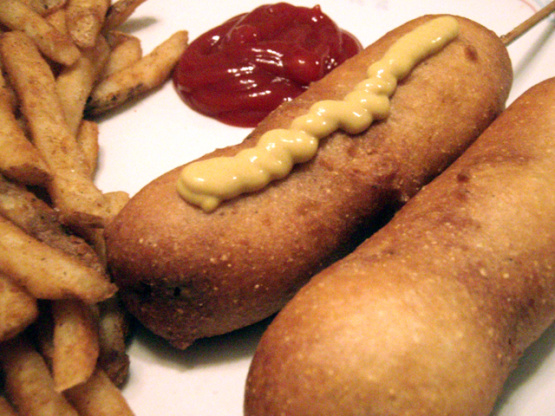 A different corn dog recipe to please the inner child. Or the outer child for that matter.

I was so excited to try corndogs after finding a fry baby at a garage sale for .25. I loved the taste and well never buy a frozen corndog package again. My biggest challenge was getting the batter to stick to the hot dog. There were small spots of no batter, but that was fine for our family needs. I didn't use sticks, with a toddler I didn't want her chocking herself (she's 2). I couldn't wait for them to be done to try and I was not disappointed.
Combine flour, cornmeal, sugar, baking powder, salt and dry mustard in a bowl.
Cut in shortening until mixture resembles fine crumbs.
Mix egg and milk.
Add to dry ingredients.
Mix well.
Dry frankfurters well with paper towels (this allows the coating to stick better).
Insert skewers into the end of the frankfurters.
Pour oil into a skillet to a depth of 1 inch.
Heat oil to 375 degrees.
Coat franks with batter.
(if batter is too thick, thin with a little milk).
Arrange coated franks 3 at a time in hot oil.
Turn franks with tongs after 10 seconds to prevent the batter from sliding off.
Cook for 3 minutes, turning again 1/2 way through cooking time.
Serve hot with catsup and mustard.