lazyme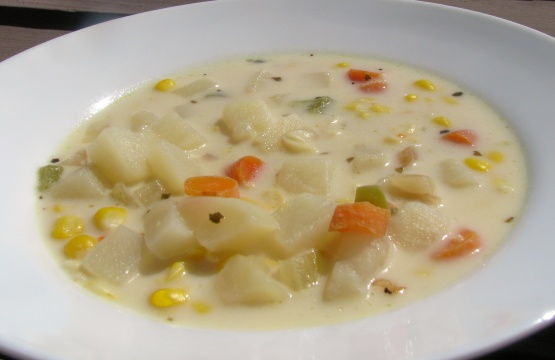 An easy, tasty soup to make that is substantial enough to make the meal. Serve with corn muffins to follow on the corn theme.

This certainly is an easy, tasty soup that I will make again. Other than halving the ingredients (with no problems), I followed the recipe exactly. I didn't add salt or pepper at the end as I felt it wasn't required. Thanx Evelyn!
Cook onion, celery and bell pepper in butter and oil over moderately-low heat, stirring, until vegetables are softened.
Add garlic and cook 1 minute.
Add stock, thyme, bay leaf, salt, carrots and potato and simmer, covered, for 15 minutes or until vegetables are just tender (if using frozen corn, add at this point too).
Add fresh corn and simmer 5 minutes.
Discard bay leaf.
Transfer 2 cups of the solids with a slotted spoon to a blender, add half and half and puree.
Add puree back to the hot soup and heat.
Season to taste.