A mish-mash of several recipes, but mostly based on a Real Simple version. The bacon gives it a good smokey taste and it's even fairly healthy! Anything that tastes this rich and is low fat....mmmmmm :)
4 slices bacon, diced
3 green onions, thinly sliced (white and light green parts)
2 teaspoons fresh thyme leaves
3⁄4 teaspoon salt
1⁄4 teaspoon pepper
1 tablespoon flour
3 cups fat-free half-and-half (or use whole milk)
1 cup chicken stock
2 russet potatoes, peeled and cut into a 1/2-inch dice
3 cups corn kernels, I've used leftover BBQ'd corn and it works great. (from 4-6 ears, fresh or frozen, The carmelization really makes it taste great...)
Directions
Fry the bacon until browned and crisp, about 5 minutes.
Set bacon aside, spoon off and discard all but 2 tablespoons of the drippings.
Add the green onions, thyme leaves, salt, and pepper. Cook til softened.
Sprinkle flour over and stir to make a roux.
Add the half and half, broth, and potatoes. Simmer gently until the potatoes are tender, about 15 minutes. (They help thicken the chowder.).
Add the corn and cook for 5 minutes. Stir in the reserved bacon.
Most Helpful
Very much enjoyed by myself and DH. Added some cut up chicken as well!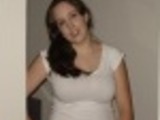 I increased the flour amount added in crushed chili flakes, I used regular half and half cream and turkey stock in place of the chicken, also did a few minor adjustments, this soup was included in a take-home meal for my DS and was enjoyed, thanks for sharing DeeCooks!...Kitten:)
FALL PAC 2007---This was sooooo darn good. Between the 3 of us, we ate the whole pot for dinner last night. This was very easy to make and we all enjoyed it immensely. Thanks Dee....it is a recipe I will be using again and again and will certainly be sharing.