Corn Casserole (Paula Deen)
Nimz1466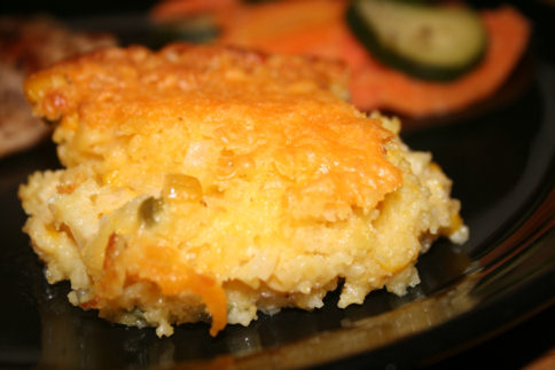 Corn Casserole Recipe courtesy Paula Deen I have had this at a pot-luck lunch at work and it is FABULOUS!!! I wanted the recipe to put in my cookbook so I decided to list it on here...Enjoy!!

Perhaps this is blasphemy but I substituted 1% milk for the melted butter and it was delicious. I try to modify recipes to make them more heart healthy for my family but want them to enjoy their meals too. It was very good.
Preheat oven to 350 degrees F.
In a large bowl, stir together the 2 cans of corn, corn muffin mix, sour cream, and melted butter.
Pour into a greased casserole dish. Bake for 45 minutes, or until golden brown.
Remove from oven and top with Cheddar.
Return to oven for 5 to 10 minutes, or until cheese is melted.
Let stand for at least 5 minutes and then serve warm.