gailanng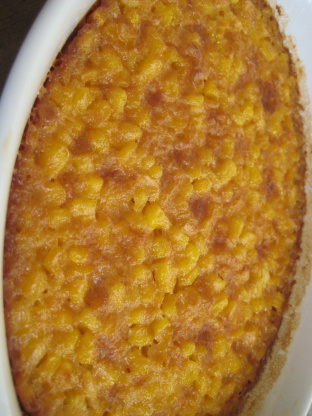 This is a great casserole that warms over well when baked ahead of time. From "Little Rock Cooks" cookbook.

Good for kids. Hubby liked the cinnamon but overall, it was way too sweet. I used half & half instead of the evaporated milk so needed to cook it longer. Might be good with sugar cut in half.
Heat 1/2 cup butter and 1/2 cup sugar in a medium size pan until butter melts.
Stir in flour and blend well; remove from heat Gradually stir in milk Add eggs and baking powder and mix well Fold in corn and pour into a buttered 2 quart casserole Bake at 350 degrees for 40 minutes or until a knife comes out clean when inserted near center Brush with melted butter Sprinkle with sugar and cinnamon.