Baby Kato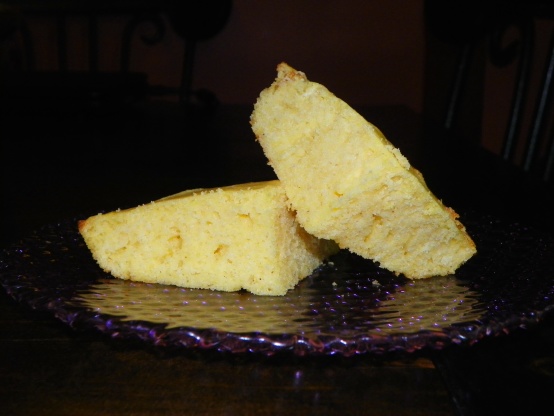 This is an easy to prepare, mildly-flavored cornbread. I tried this at a friend's house years ago, and promptly asked for the recipe. This has been extremely helpful over the years, as we have picky eaters around here who won't touch cornbread that has actual corn in it, but they gobble this one up! We really like it warm with a bit of butter and honey, or alongside some chili, etc.
This was good, I do prefer more of a corn taste to my cornbread. I can see why people who don't like cornbread like this. It is very mild and the texture not grainy at all. Super quick to prepare for sure!
Preheat oven to 400°F.
Grease well 8 or 9" pan pan.
Combine the flour, cornmeal, sugar, baking powder, and salt and mix well.
Stir in the milk, vegetable oil, and egg. Mix just until the dough is moistened.
Pour the batter into the pan.
Bake 20-25 minutes, or until golden-brown.