Prep 10 mins
Cook 15 mins

Directions
Heat oil in a 12-inch heavy skillet over moderate heat until hot but not smoking, then cook scallions, stirring occasionally, until softened, about 3 minutes.
Add garlic and cook, stirring, 1 minute. Add corn, zucchini, cumin, salt, and pepper and cook, stirring occasionally, until zucchini is tender, 4 to 6 minutes.
Stir in cilantro and season with salt and pepper.
Reviews
Most Helpful
Thx so much for posting this fabulous recipe! It is great just as it is written. My entire family loves this dish for dinner on hot summer nights served with grilled quail. Everyone who likes cilantro, zucchini and corn should try it! **This was saved in my Top 2008 Recipes Cookbook!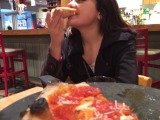 Delicious! It was a hit with my DW and me! We had it as a side dish with BBQ Ribs and salad. I am looking forward to having leftovers as a cold salad in my lunch tomorrow. I also prepared it as written and I didn't change a thing.