vrvrvr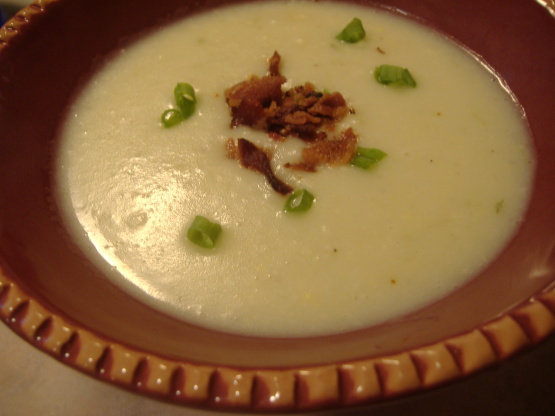 A fast and easy microwave soup. Most households will have the ingredients on hand. Use dried herbs instead of green onion and try yogurt or ordinary cream instead of sour cream

Top Review by vrvrvr
I made this soup on the stove-top, and made a couple minor changes: subbing green onion for yellow, adding salt, and garnishing with bacon. The simplicity of ingredients produced a lush soup with strong potato and corn flavors. Very enjoyable! I used my immersion blender to blend this right in the soup pot. Served with crunchy ciabatta rolls and seedless red grapes for a rustic, satisfying meal. Thanks for posting this!
Mix onion, potato, corn& bay leaf in large bowl.
Cover and microwave on high 15 minutes.
Add milk, salt& pepper, cover and microwave on high 5 minutes, stirring once.
Stir in hot stock.
Puree in a processor or use a hand blender.
Adjust seasonings, add green onions.
Place in soup bowl and swirl in a little sour cream.