Dawnab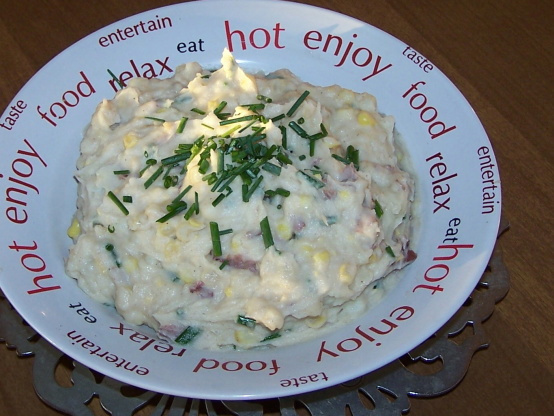 I always mix my corn (or peas for that matter) up with my mashed taters. Here's my interpretation of a recipe I found on the net for it. Originally there were 2 pages of ingredients and endless steps. Simply delicious.
Remove kernels from cobs and set aside (there should be about 2 or 3 cups of corn).
Cook potatoes and garlic in boiling salted water until tender.
Drain potatoes, reserving about a half a cup of liquid.
Saute corn kernels in 1 tablespoon of butter, season with salt and pepper and cook 6-8 minutes.
Set aside.
Melt the remaining butter until it becomes brown lightly and begins to smell nutty.
Remove the pan from the heat so it does not burn; there will be some brown whey in the bottom of the pan.
Whip the potatoes with the mixer along with cream, browned butter and sour cream.
Add additional potato cooking liquid as needed.
Fold in corn kernals, season with salt and pepper.
Mix in chives or scallions if using.