Corn and Marigold Fritters(Angola)
momaphet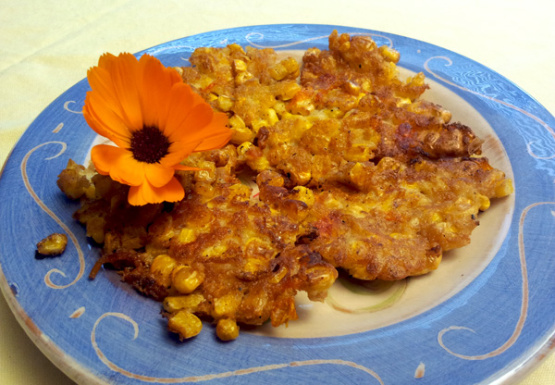 This is an excellent supper dish from Angola, Africa, which children will enjoy. Serve the fritters with a hot green vegetable or salad and brown bread and butter. From wiki recipes.
For me these were closer to 3 stars for flavor - though DH said a solid 4 star, but I gave them the higher level for an interesting ingredient and just being different. I was surprised how little "batter" there is, it was difficult to keep them together I ended up using a little extra flour and a little more oil then stated. The calendula didn't add any extra flavor but it looked good - almost like flecks of carrot - I would add more next time to see if it would give more flavor or try nasturtium. The corn gets a nice tasty toasty flavor but the batter part is fairly bland, some onion or garlic powder would help and an extra sprinkle of salt at the end was good. I did make some lime aioli for dipping and it was a really good accompaniment. May for "My Food Odyssey" - Angola<br/>'
8

ounces sweetcorn

4

tablespoons heavy cream (also called double cream-or use cream of coconut to make this vegan)

1

tablespoon flour (or more as needed)
1⁄2 teaspoon baking powder (or soda)
1⁄2 teaspoon onion powder (optional)

1 -2

tablespoon marigold petals (use pot marigold calendula)

1

tablespoon sunflower oil (or more)
Put the sweetcorn in a bowl and pour over the cream.
Sift in the flour and baking powder soda and season to taste with onion powder(if using), salt and pepper.
Stir in the marigold petals.
Set a large, heavy frying pan over high heat and pour in the oil.
Drop spoonfuls of the fritter mixture into the oil and fry until golden on both sides, turning once.
Press the mixture flat with a spatula to give a lacy effect at the edges.
Cook the fritters in bunches until all the mixture is used up, adding more oil to the pan if necessary.
Serve hot.