RuPei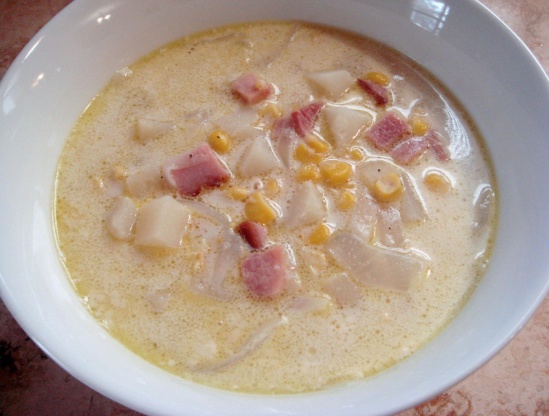 This is my version of "Corn & Ham Soup". We don't add any cheese in it and I personally don't use cornstarch or flour as a thickener. Therefore it's healthier and lighter but it's still rich and delicious!!
Heat oil a little over medium heat. Sauté onion until transparent.
Carefully add potato, ham and water until water just covers ingredients. Increase heat to high and bring to boil.
Reduce heat to medium and cook until potato becomes soft, about 5 minutes.
Stir in cream style corn, whole kernel corn and milk. Cook until it turns steamy hot but not boiled.
Stir in heavy cream and butter. Reduce heat to low and cook until soup turns thick, about 5 minutes.
Stir in salt. Add some black pepper in soup bowl if desire.