Corn and Green Chili Tamale Casserole
Prep 20 mins
Cook 35 mins

Got this from a church cookbook. Thank you Mrs. Caton.
Directions
Preheat oven to 375°F Place frozen tamales in microwave and cook on high until thawed, about 5 minutes.
Remove husks.
Cut tamales in half lengthwise.
Place in single layer in 10-inch-diameter glass pie dish.
Sprinkle with frozen corn, chilies, green onions and 1/2 cup cilantro.
Whisk cream, salsa verde, chili powder, cumin, salt and pepper in medium bowl to blend.
Drizzle over casserole.
Sprinkle grated cheese over top.
Bake casserole until heated through and bubbling, about 35 minutes.
Sprinkle with 1/2 cup cilantro.
Serve with avocado and more salsa, if desired.
Reviews
Most Helpful
We all enjoyed this flavor; however, it was very very mushy. We didn't care for the texture at all. Thanks for posting!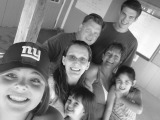 This is the second time I have made this and everyone loved it! I used half and half instead of cream, probably could go even lighter and use lowfat milk. And I prefer red enchilada sauce over the salsa verde, and that worked great. You can double it really easily so it's good for a crowd. Great recipe!
This is quick and easy. Family loved it - you could probably use half and half instead of cream to cut down on fat - or low fat cheese. I made it exactly as written and it was VERY good.