Corn and Fire-Roasted Poblano Salad With Cilantro
ChefLee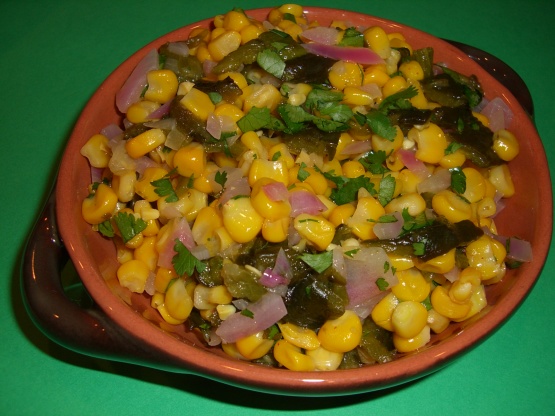 This side dish was a hit served with enchiladas and I bet it would be good alongside quesadillas too. Please adjust the amount of poblanos to taste. I would suggest only using fresh corn to get the best flavor from this salad. From Everyday Greens a cookbook from a vegetarian restaurant in the San Francisco Bay Area.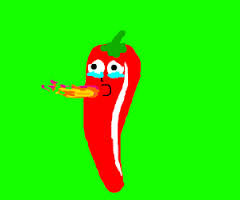 This is a super salad!! I love the tangy, spicy, flavorful ingredients!!! I roasted 3 small poblanos and used thawed frozen corn. I had never used this boiling method on onions before, it created a sweet onion without the strong taste and aftertaste. The sweetness balanced out the other flavors perfectly!! I served this salad with recipe#154567 and it paired wonderfully with that Mexican dish!! I will definitely make this again, thanks for posting!!!
Roasted Poblanos: Rub the chilies lightly with oil and place them on a stovetop grill or directly over an open flame. Grill over medium-high heat and turn, using metal tongs until the skins are evenly blistered and charred. Remove from the heat, transfer to a bowl, and cover with a plate or a lid; they'll steam as they cool. Loosen and peel the skins from the chilies. Bits of charred skin are ok. You can dip your fingers in water, but don't be tempted to dip the chilies in water or peel them under the running faucet-you'll lose their delicious flavor.
Salad: Bring a small pot of water to a boil and drop in the onions for 20 seconds. Drain and toss with the vinegar.
Heat the oil in a large sauté pan. Add the corn, 1/4 teaspoons salt, and sauté over medium heat for about 1 minute. Add the water, lower the heat, and cover the pan. Simmer covered, until the corn is tender, about 5 minutes.
Transfer to a bowl and toss with the chilies, onions, lime juice, 1/4 teaspoons salt, and a pinch of cayenne. Set aside to cool.
Just before serving, add the cilantro and season to taste with salt and cayenne.
Tip: To make this salad even easier, you can prepare the separate elements ahead of time and combine them at the last minute. The poblano chilies keep well for several days in the refrigerator or can be frozen and defrosted just before serving.