Corn and Cheese Griddle Cakes (Arepas) - 2 Ww Points
awalde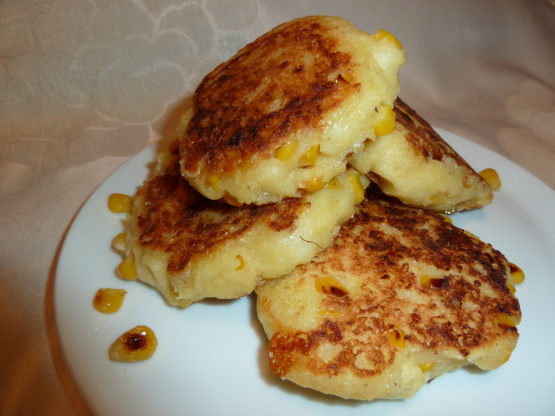 These little Venezuelan griddle cakes, known as arepas in Spanish, can be eaten at any time of the day, topped with cheese, meat, chicken, or eggs. You can top them with roast pork or a spoonful of pico de gallo as a delicious side or tempting appetizer. You use nonstick cooking spray quite a bit for this, but I like to use an olive oil spritzer. Enjoy!

I thought these were just ok. I made exactly as is but they came out pretty dry. The flavor was also a little bland. Might make again with some adjustments. Thanks!!
Put the cornmeal and salt in a food processor and process until finely ground. Transfer to a large bowl and stir in the cheese and butter.
Meanwhile, heat the milk in a small saucepan over medium-high heat until almost boiling. Gradually stir enough of the milk into the cornmeal mixture to make a very thick batter. Stir in the corn.
Spray a large nonstick skillet with nonstick cooking spray and set over medium heat. Drop half of the cornmeal mixture, 1 heaping tablespoon at a time, in 6 mounds in the skillet. Flatten slightly and cook until golden brown, about 3 minutes. Spray the griddle cakes with nonstick spray and turn. Cook until golden brown, about 3 minutes, transferring them to a platter when they are done; keep warm. Repeat with the remaining cornmeal mixture to make a total of 12 griddle cakes. Serve with Pico de Gallo, if using.