Parsley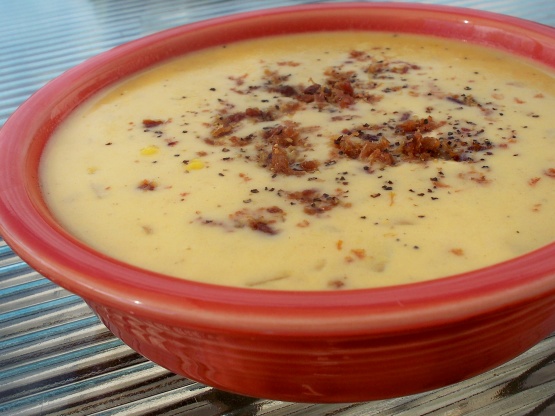 This soup stands on it's own as a main course. Serve with Italian bread and a tossed green salad. To save time, before cooking I use the kitchen shears to cut up the bacon. To cook, stir bacon with a wooden spoon till crisp. This recipe comes from Gourmet Magazine.

This is one of the best soups I have ever eaten. The chef is exactly right, it does stand on it's own as a main course. With some bread or crackers this is a tasty fulfilling meal that leaves you warm inside on a cold fall or winter day and still lets you have some room for dessert!
Cook bacon in a 3-quart heavy saucepan over moderate heat, stirring, until crisp and transfer with a slotted spoon to paper towels to drain.
Add onion and butter to fat in pan and cook, stirring, until onion is softened.
Add cumin and cook, stirring, 1 minute.
Add flour and cook, stirring, 1 minute.
Whisk in broth and bring to a boil, whisking occasionally.
Add potato and simmer, covered, stirring occasionally, until just tender, 8 minutes.
Stir in cream and corn and return to a simmer.
Add Cheddar, stirring just until cheese is melted (do not let boil), and season generously with salt & pepper.
Serve topped with bacon.
Serves 4.