Boomette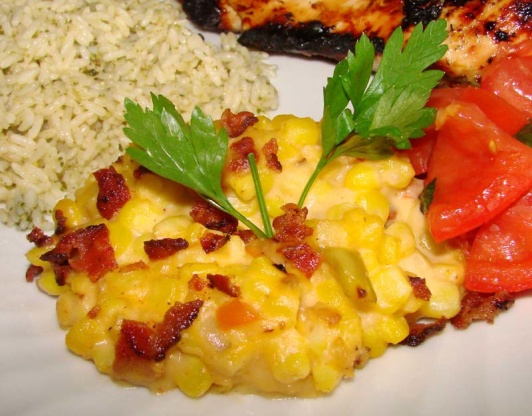 I used a red bell pepper instead of green and used the onion. It was great. I used the parsley only for the photo. I omitted the salt, it was salty enough. I used fat free sour cream. Usually DH doesn't like things made with sour cream, but he liked this dish. I didn't tell him ;) DS also liked this. It was enjoyed by all. Thanks Parsley. Made for Market tag.
Prehaet oven to 350.
Melt butter in a skillet over medium low heat. Add onion and green bell pepper; saute for 2 minutes; stir in flour and salt.
Gradually add the sour cream and cheese. Heat until it just begins to bubble, stirring constantly; add corn and heat through; stir in half of the crumbled bacon.
Transfer corn and sour cream mixture to a 2-quart casserole dish; top corn casserole with remaining crumbled bacon and chopped parsley.
Bake at 350 for 10-15 minutes.