GaylaJ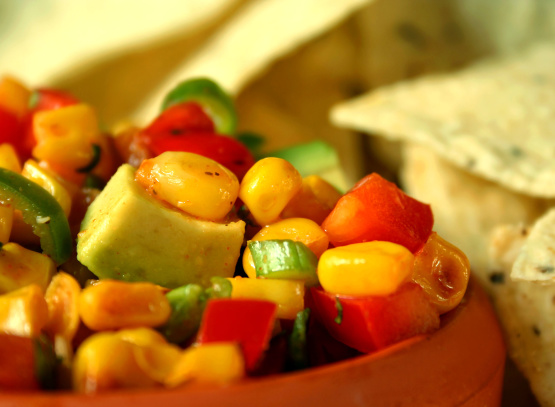 This is a fabulous salsa, I cannot stop making it...got the recipe from Southern Living and it really tastes good if you buy the Lime flavored chips to dip.

Top Review by BurgyJ
I loved this salsa! My husband hates "chunky" salsas and I hate pureed salsas, so I really got to enjoy my first batch myself. I also bought the lime chips (accidentally) and they were great with this. I omitted the jalepeno, well, just because I could. I am making a second batch today and packaging it for a few friends that I know will enjoy it. Thanks for the great recipe!
Saute first 3 ingredients in hot oil in a large skillet over medium-high heat for 6 to 8 minutes or until corn is slightly golden.
Remove from heat; let cool.
Stir together corn mixture, bell pepper, and next 6 ingredients.
Cover and chill at least 30 minutes.
Stir in avocado just before serving.
To add more flavor without more heat, increase the fajita seasoning by 1/2 tablespoons.