Mika G.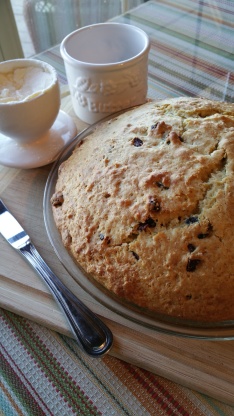 This is the best Irish Soda Bread recipe ever! It comes out crunchy on the outside and soft, sweet and moist inside. I got this from an old Irish cookbook in high school to make for an Irish feast we had in history class.

Oh my gosh! I just made this with dried cranberries and it is fabulous! I used dried buttermilk powder in the dry mix and water for the wet. Worked beautifully! Thank you SO much for the wonderful recipe! I will make it for years to come.
Combine flour, sugar, baking powder, baking soda, and salt in a large bowl; mix well and add raisins.
Beat eggs in a smaller bowl.
Add buttermilk to eggs and beat until combined.
Add egg mixture to butter and dry ingredients.
Stir until moistened.
Pour into greased layer cake pan or pie pan. (Dough will be very thick and dense).
Bake at 350 degrees Fahrenheit for 1 hour.
*Delicious served hot with butter!*.