Cora's World Famous Chocolate Chip Cookies!
Juju Bee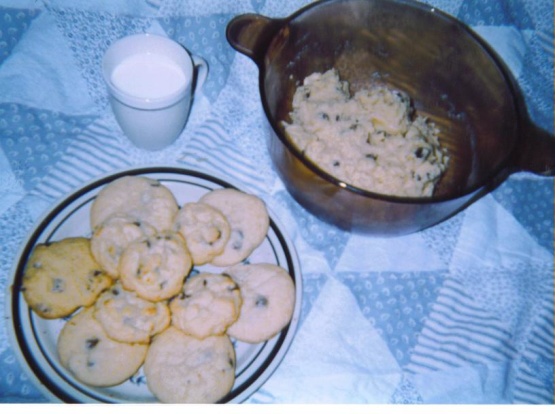 Wow! I have been trying to find a recipe for chocolate chip cookies that has a crispy outside, and a soft doughy inside. These are pretty dang good I think. The neat thing about them is you only need one bowl. No need for a wet and dry mixture. This is my favorite Chocolate Chip Cookie recipe so far on my "Cookie Quest"! From dvo.com

These cookies were delicious. The only reason why I'm not giving it a full five stars is that I thought these would be better with less flour (2 1/2 cups) which they were but then in the name of science and in giving a proper rating I followed the recipe a second time; the consistency and taste was somewhat better in the first batch.
Preheat oven to 350°.
Mix butter and sugars until well blended.
Add eggs and vanilla; mix well.
Add baking powder and baking soda directly into the butter mixture and mix VERY WELL!.
Stir in the flour- mixture will be thick, use your hands to mix if needed.
Mix in chips and nuts, if desired.
You can roll balls of dough into small balls for a prettier cookie, but in my opinion- the texture is better if you just drop on cookie sheet in globs.
Bake at 350° for 10-12 minutes or until golden.