dojemi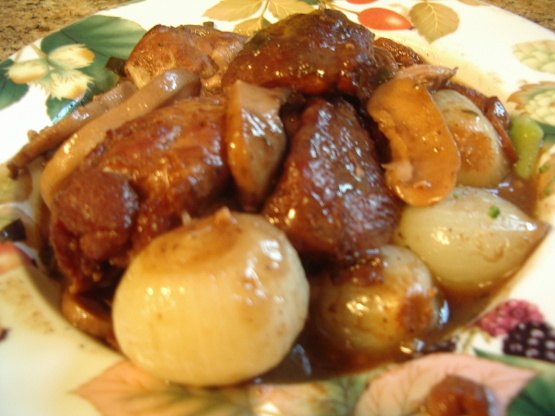 I can't remember where I found this recipe. I've been making it for years and it's one of my families most requested. I prepare this in a cooker/fryer. Cook time includes all cooking needed. The meat gets so tender through the final cooking process that the meat literally falls off the bones. Because of that, I prefer to use all boneless chicken thighs and breasts. A rule of thumb to follow for the wine......only use a wine in this recipe that you consider good enough to drink.

I combined this recipe and another (#62127) for a nice hybrid of the two. I marinated the vegetables & fresh herbs (parsley & thyme) the night before in beaujolais wine, then separated them with a strainer. Used half a bag of frozen pearl onions & a combination of bone & boneless thighs. Next time I will use all bone thighs with the skin on, as these were tastier. Very good recipe.
Preheat cooker/fryer to 300 degrees.
Cook bacon till crisp.
Remove and reserve.
Add butter to bacon fat and brown chicken pieces.
Remove chicken and reserve.
Lightly cook onions and mushrooms.
Remove.
Pour out drippings and reserve 2 tablespoons in cooker.
Cook garlic and scallions till limp.
Stir in flour and cook 2 minutes till flour has browned.
Turn off heat.
Stir in wine, bouillon and 1 cup of boiling water.
Turn heat up to 300 degrees and stir till mix comes to a boil.
Add salt, pepper, thyme and bayleaf.
Stir.
Add bacon, chicken, onions and mushrooms.
Cover.
Turn heat to simmer and cook for 30 to 45 minutes till chicken in tender.
Remove bayleaf before serving.