Annacia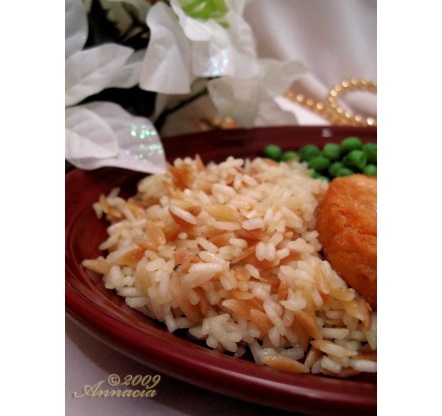 I concocted this recipe for my friend who loves the rice pilaf served as a side dish at Sizzler steakhouses. You can tweak the seasonings to your preference and adjust the amounts of lemon juice & chicken buillion to your taste. Enjoy!

I made as directed except I used chick stock in place of the water and the amounts were right on. This was very yummy and pretty close to Sizzler rice which happens to be my favorite! Thanks for the recipe!
In a skillet with lid over medium heat, saute raw pasta in butter, stirring, until it begins to brown. REMOVE FROM HEAT.
Stir in all seasoning powders and rice.
Carefully add lemon juice and warm water (it may sputter - you can let the pan cool off longer to prevent this). Stir.
Cover with lid and simmer on lowest heat for 20-25 minutes, or until rice is tender and all liquid absorbed.
You could also try this in a rice cooker, by dumping browned pasta into cooker with all remaining ingredients and setting as usual for regular rice.