Copycat Rainforest Cafe Volcano
jb41848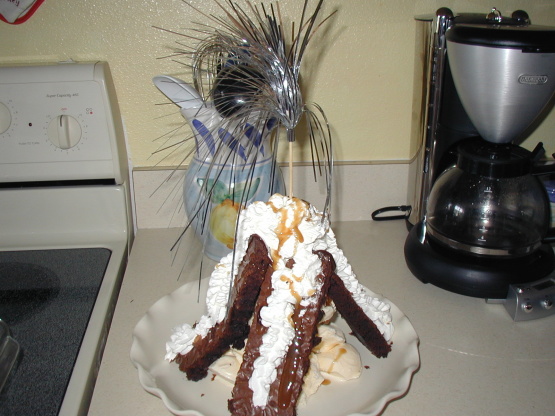 I have had this many times at the Rainforest Cafe and finally have decided to try and copycat it. Well, I finally think that I have. It is alot of ice cream, brownie, and sauces, but it is ohhhh sooooo goooodddd.....

I'd say they use sparkle candles (not actual sparklers). I made the same mistake myself. Can probably get them on-line if you search. They sell them in Ireland at Dunnes Stores. Not rating the dessert 'cause haven't tried it, just wanted to help out on the effect/presentation.
4

already made chocolate brownies, cut into 8 inch pieces

12

scoops vanilla ice cream (or more)

1

can whipped cream

3

tablespoons caramel sauce

3

tablespoons hot fudge, warmed and kept warmed
On a chilled large round plate or platter arrange the scoops of ice cream so that they make a pile in the center of the plate.
You may use more ice cream or less, up to you.
Next, arrange the brownies along the sides of the ice cream so that it looks like a volcano shape.
Next, drizzle the top and down the sides with the 2 sauces.
Finally, add the whipped cream directly down the center of the volcano and then all over the sides.
Drizzle with more sauce and stick a sparkler or streamer in the middle.
Make sure you yell VOLCANO when you serve it.