Copycat - Moxies White Chocolate Brownie
loof751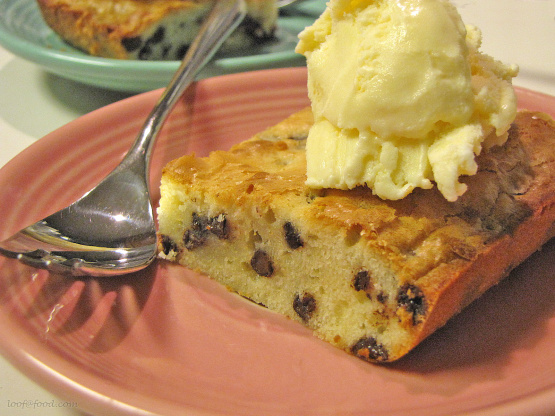 I found this recipe online a while ago, but I can't remember where so I'm posting it here for safe keeping. This is one of my favorite desserts and I was surprised that I wasn't able to find it on food.com! It's not great alone, it really does need to be warmed up and topped with ice cream to be anything special.

Boy these are delicious brownies! Moist but not gooey and great flavor. I made half the recipe and used mini chocolate chips. Not familiar with Moxies so don't know how these compare but we just loved them - thanks for sharing the recipe! Made for Spring Pick-A-Chef 2014
Preheat oven to 350. Grease a 9x9" pan.
Melt white chocolate and butter in the top of a double boiler, or in microwave on med power. Set aside to cool.
In a large bowl, beat eggs until foamy.
Gradually add the sugar and vanilla, mixing constantly.
Drizzle in the melted white chocolate mixture.
Combine the flour and salt and fold into the white chocolate mixture.
Fold in chocolate chips.
Spread the batter into the prepared pan.
Bake for 30 minutes or until a toothpick comes out clean. Do not over-bake.
4. Serve heated. Top with a scoop of vanilla ice cream, some real whipped cream and a drizzle of chocolate sauce.