Copycat Mc Donald's Hamburgers/Cheeseburgers
Linajjac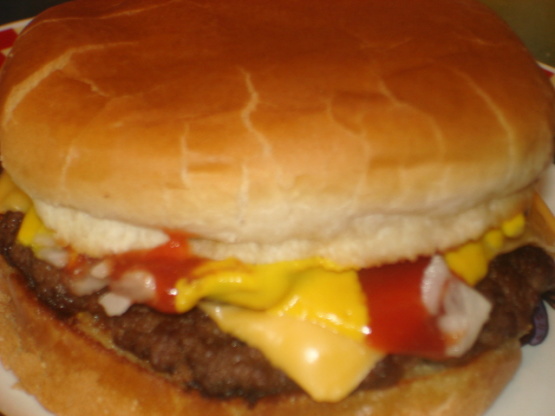 My friend found this for me(when I was having a McDonalds burger obsession) in one of her cookbooks and it's delicious.
These were really good!! I'm thinking they are about as close as you can get to the real thing. When discussing what it was "missing" to make it taste like the real thing, and my husband suggested "it must be crack...yeah, thats what its missing...the crack they must put in the burgers to make them so addicting." Haha. Seriously...these are good!!
Mix the dried onion with the boiling water and let sit until re hydrated and no longer dry & crunchy.
Roll ground beef into a ball and press flat on waxed paper until about 1/8 inch thick.
Brown faces of bun in a dry frying pan over medium heat. Remove bun and cook burger in the same pan for 2 min per side, salting each side lightly during cooking.
On the top bun-half spread the ketchup, mustard, and onion, in the order, and top with the pickle slice.
put the beef patty on the bottom bun and quickly slap the top and bottom together. Microwave the burger on high for 10-15 seconds. FOR CHEESEBURGERS: follow the above recipe, but add a slice of American cheese on top of the beef patty in the final assembly. Microwave for 15 seconds on high to help steam the bun and simulate being wrapped in paper.