Copycat Mc Donald's Big Mac Sauce
cyaos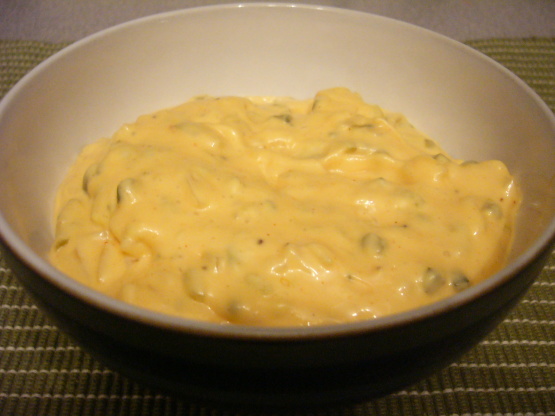 I am not a fast-food fan, but even I'll admit a Big Mac is pretty good. Make them at home with this copycat sauce.

Very good in a pinch... But here's the original version from "The McMenu". These were the original recipe's from the 50's thru the 70's. Big Mac® Special Sauce 1/4 cup KRAFT Miracle Whip 1/4 cup mayonnaise 2 tablespoons, heaping, WISHBONE deluxe French salad dressing (the orange stuff) 1/2 tablespoon HEINZ sweet relish 2 teaspoons, heaping, VLASIC dill pickle relish (Heinz dill relish also works) 1 teaspoon sugar 1 teaspoon dried, minced onion 1 teaspoon white vinegar 1 teaspoon ketchup 1/8 teaspoon salt Mix everything very well in a small container. There better be no streaks! Microwave 25 seconds, and stir well again. Cover, and refrigerate at LEAST 1 hour before using. (to allow all of the flavors to "meld") Makes nearly 1 cup enough for about 8 Big Macs".
Whisk all ingredients together well.
Refrigerate for at least an hour to let the flavours blend together.