(Copycat) La Madeline's Tomato Basil Soup
PaulaG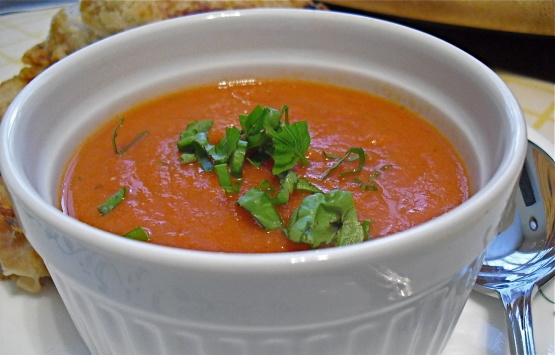 This is the closest I have managed to copying the Tomato Basil soup at La Madeline. This is the best soup for cold winter nights, and I have yet to meet anyone who did not like it.
Top Review by PaulaG
Great flavors. It has been a long time since I have eaten at La Madeline but if memory serves correct this is pretty close if not it. I did reduce the recipe by half. Used 2 cans of diced cut tomatoes. One of which was pureed in the Vita-Mix and some Penzey's Chicken Soup Base added for extra flavor. Not having the heavy cream I added in some evaporated milk. I can see me making this again.
Combine tomatoes, tomato juice and broth in a saucepan and simmer for 30 minutes.
Puree with basil in the blender. Make sure that this is smooth - I always strain it.
Return to saucepan. Add cream and butter while stirring over low heat.
Serve and enjoy!