Ronny525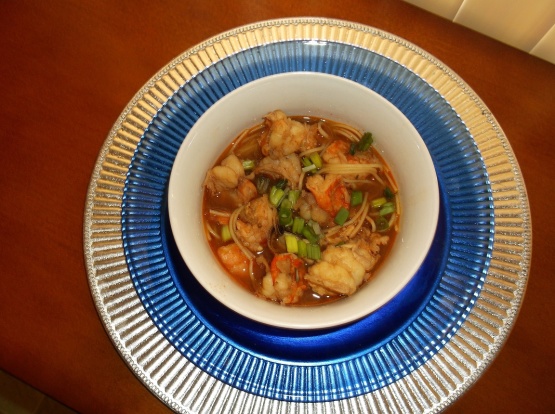 This is a copycat recipe, after the Killer Shrimp restaurant in Southern California. This is the most authentic recipe I have found -with some minor adjustments, and is wonderfull. Be sure to serve with alot of crusty bread for dipping, the broth and bread is the best part of the meal to me. I usually do half and half clam broth and chicken broth, as a personal preference. We do peel and eat shrimp, but I have made with peeled shrimp as well. Posting here as I don't see another like it combined with safe keeping, can't lose this!

This is ok.. but it is not like the Killer shrimp place.. I just made it and i noticed a big difference. first it needs sherry, will make it little sweeter, just like the restaurants, heavy whipping cream will give it the color and more of the smooth taste i remember.. also shallots really need to be added.. i think all of that would really make it taste like the restaurant.
Combine all spices, partially crush and grind using a mortar and pestle or heavy bottom pan - just to partially crush spices, they should still be recognizable.
Mix all spices and remaining ingredients except shrimp in a large pot, simmer partially covered for a minimum of one to two hours.
Add shrimp, cook for approximately 5 minutes, or until shrimp is just pink and starting to curl. Allow to sit in broth for a few minutes off the heat.
Serve in bowls with a lot of broth and a plate full of crusty bread for dipping.