Copycat John Alden Rollwich
Kree6528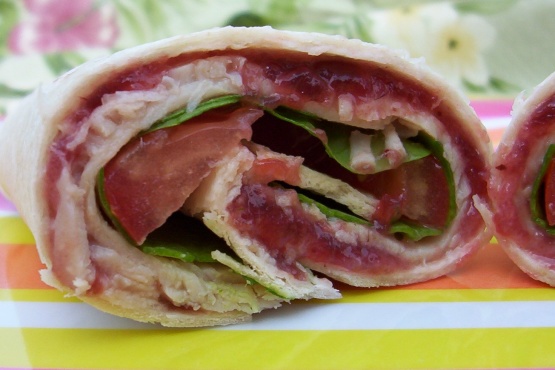 If you've ever been to Cape Cod, you've almost certainly either seen or eaten at one of the many Box Lunch franchises in the area. This is my recreation of one of their famous "Rollwiches", scaled down to fit my smaller appetite. Feel free to make this in a larger tortilla and increase the other ingredients if you desire. If you add some slices of swiss cheese, this becomes a Priscilla Alden!

I'm giving this five stars even though I left out the tomato because I didn't have one. I must admit that I tried it because of the name. John and Priscilla Mullens Alden are my many greats grandparents, so when I saw the title to this sandwich, well.......... I love the flavor of turkey and cranberry. Tart and yummy and the mayonnaise is so good with it all. Thanks, Kree, for posting this one.
Spread the mayonnaise on the tortilla, making sure to leave at least 1/2 inch around the outside.
Glop on a thin layer of cranberry sauce, but enough that it's fully covered. If you mash the cranberry sauce with a fork it seems to spread more easily.
Add the turkey and a thin layer of lettuce (or spinach).
Place the 3 tomato slices in a line down the center of the tortilla.
Make sure you don't fill the tortilla too full or get too close to the edge, or it won't wrap properly!
Carefully roll the tortilla into a wrap. Cut into two pieces, if desired.
Dig in and enjoy a taste of New England!