Copycat IHOP Harvest Grain & Nut Pancakes
Syin5907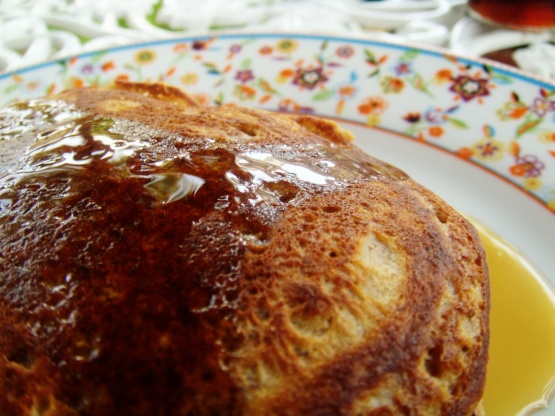 I got this from Restaurant-recipes-request@food-lists.com

I've never had these pancakes at IHOP, but I was happy to try them in the quest for a healthy, substantial pancake. I loved the hearty texture of these along with that signature flavor buttermilk gives; I wasn't sure if I noticed the tangy flavor other reviews described, at first, but realized that it did indeed have that "flavor" IHOP's pancakes do, so it made it very unique. I used a 1/4 cup unsweetened apple sauce in place of the oil and the pancakes were moist inside and not raw from the replacement. I also replaced the sugar with a few tablespoons I had of honey and a half a pureed banana to add some natural sweetness; the pancakes weren't as sweet as I imagine them being at IHOP, but I really liked the natural flavor the banana lent to it. These are really filling and a great recipe to share!
Lightly oil a skillet or griddle, and preheat it to medium heat.
Grind the oats in a blender or food processor until fine, like flour.
Combine ground oats, whole wheat flour, baking soda, baking powder and salt in a medium bowl.
In another bowl combine buttermilk, oil, egg and sugar with an electric mixer until smooth.
Combine dry ingredients with wet ingredients, add nuts and mix well with mixer.
Ladle 1/3 cup of the batter onto the hot skillet and cook the pancakes for 2 to 4 minutes per side or until brown.