Copycat Ihop Griddle Cakes
Demelza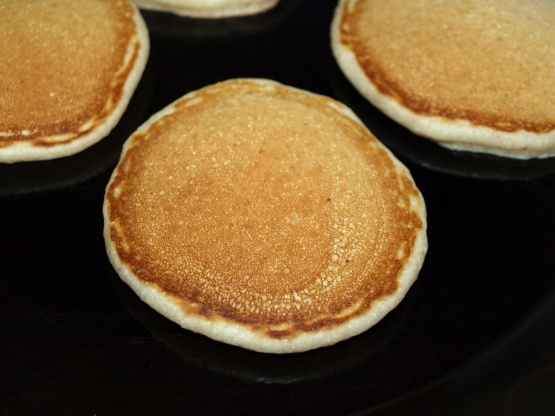 I don't remember where I found this copycat recipe. I am always looking for ways to sneak some healthier things into the foods kids love. The cream of wheat & buttermilk in this recipe are one way to do that. Serve these with your favorite syrups, or fresh fruit and a bit of whipped cream. A warm blueberry or saskatoon berry sauce is always nice on any kind of pancake, griddle cake or french toast. We prefer smaller pancakes or griddlecakes rather than the plate size ones they serve in restaurants. The cooking time is based on using a cast iron fryingpan, so I can only cook 4 griddlecakes at a time. They do warm up nicely if you have any leftovers. Update, I have been told that this recipe is from Todd Wilbur's Top Secret Restaurant Recipes 2. The ingredients are basically the same (a few slight differences), but my method is not the same as as Todd's. I have been using Quaker Oat Bran cereal instead of Cream of Wheat for the last year as well to add some fiber to these.

I have made this several times and I love it!!!!
Mix buttermilk and cream of wheat together.
Stir in baking soda.
Beat egg, oil, vanilla, sugar, and salt (if using) together.
Whisk in buttermilk mixture.
Stir in flour and baking powder. If batter is too thick you may add additional buttermilk.
Spoon about 1/4 cup batter per griddle cake on hot grill or cast iron frying pan.
Cook till golden, flip and continue cooking.
Keep warm in oven while preparing the rest of the griddlecakes.
Serve hot with choice of toppings.