Copycat Duncan Hines Boxed Cake Mix
scancan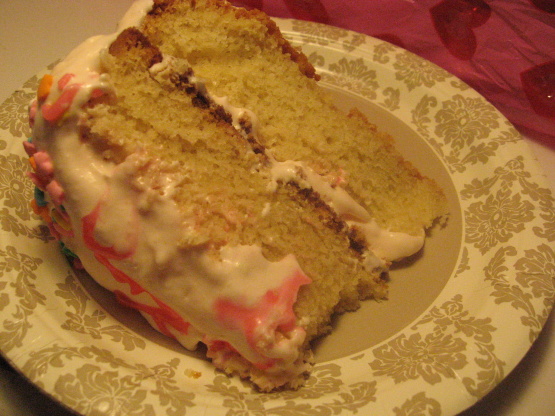 This cake tastes like a boxed white cake mix only better, it has never failed me yet, it is a recipe that I use over and over again for the *perfect* white cake, and so easy to make too! really anything can be addded to this cake, tiny chocolate chips, nuts, dried fruit, add in some food colouring for a pastel coloured cake with matching frosting, this makes a wonderful birthday cake!--------- * NOTE* as one reviewer stated they omitted the salt, omitting the salt will change the texture of this cake completely, so please do *not* omit, using butter-flavor Crisco is acceptable but will alter the taste somewhat but not the texture ;-)

This is an excellent recipe, add egg whites only for a true white cake. Whole eggs make it closer to a yellow cake. By increasing the ingredients by 5 and omitting the wet ingredients you can make this in to a mix and save for future use. To make cake: 5 cups of mix to 1 cups buttermilk, 3 egg whites, 2 t vanilla, 1/2 t almond. Mix well and bake. I make cakes a lot and this is a good mix to have on hand. The amount of servings was missing so I submited a request to show 12 servings, so the nutrition facts are correct.
Set oven to 350 degrees.
Set oven rack to second-lowest position.
Grease a 13 x 9-inch baking pan, and line bottom of pan with parchment paper.
In a medium or large bowl, with an electric mixer, cream the sugar and shortening until no granules remain (about 4 minutes).
Add in eggs and almond extract (if using); beat very well for 5 minutes on high speed.
In a small bowl sift together flour, baking soda and salt.
Add to the creamed mixture along with the buttermilk; mix well until blended (about 2-3 minutes).
Transfer to a prepared baking pan.
Bake on second-lowest oven rack for 30-35 minutes (check for doneness after 25 minutes, this cake bakes fast!).