Copycat Chuy's Creamy Jalapeno Dip
mlesly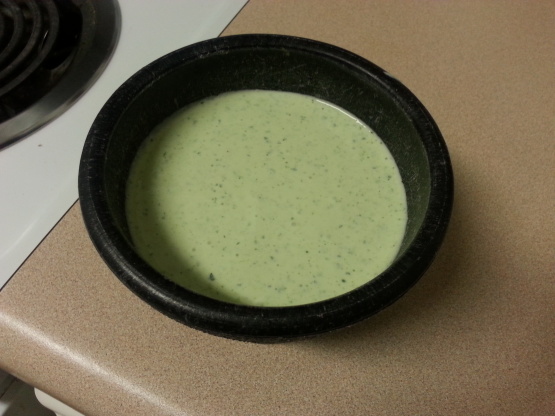 This is one of my favorite dips ever! I could eat it for a meal, really! I like it best with On The Border Cantina Thins. When I first made it, I followed another recipe but found it unlike the original Chuy's dip, so I altered it and I think this is right on the money! Make sure you add the milk a little at a time until you reach your desired consistency. (Most of the copycat recipes I've seen are thick, but I remember it being thin at Chuy's.) My husband high-fived me when he first tasted it. Enjoy!

Top Review by mlesly
Made this but changed up the recipe just a little and still need to make changes for the next batch. <br/><br/>I followed the directions but instead of adding 1cup of milk I only added 1/2 a cup of milk. It didn't come out too runny. Next batch I will use 1/2 butter milk and 1/2 cup milk like i did this time. <br/><br/>What i will change is the garlic. I added 2 cloves and that was way too much!! I think this next time i will only add 1/2 a garlic clove. The original recipe calls for 2 cloves but you are left with a bad garlic after taste. <br/><br/>Other than the garlic issue this was a hit. My 7yr old son loved it.
1. Finely chop the garlic, jalapeno, and cilantro (you can use a blender or food processor but I like the little chunks).
2. Add sour cream, ranch seasoning, lemon juice, buttermilk and stir.
3. Add milk 1/4 cup at a time until desired consistency (about 1 cup total).
Refrigerate until serving (best if made a day ahead).