Copycat Californian Rollwich
Kree6528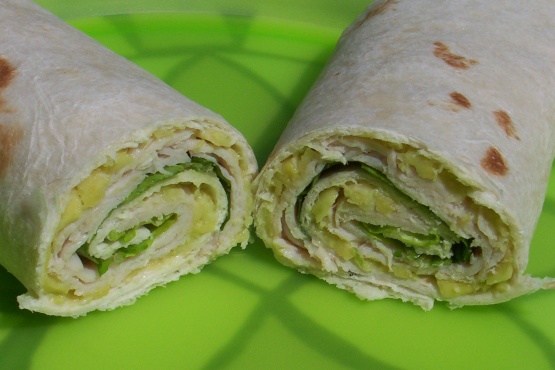 Another recreation of a fun wrap I discovered at a Box Lunch restaurant while vacationing in Cape Cod. It makes me feel like I'm eating in a trendy cafe.
This was very good with both the sprouts and the lettuce (one for DH and one for me). I think I doubled the amount of avocado since I love it so much and followed the recipe. Made also with a spinach flavored wrap (2nd day) and it was great too! Made for All You Can Cook Buffet Game.
Spread the mayonnaise on the tortilla, making sure to leave at least 1/2 inch around the outside.
Scoop the flesh from the avocado and mash, mixing with a dash of lemon juice to preserve color. You should end up with about 1 1/2-2 Tablespoons mashed avocado. If your avocado is larger just save the rest for another sandwich!
Spread avocado over mayonnaise.
Add the turkey and a thin layer of lettuce or sprouts.
Place the 3 tomato slices in a line down the center of the tortilla, if using.
Make sure you don't fill the tortilla too full or get too close to the edge, or it won't wrap properly!
Carefully roll the tortilla into a wrap. Cut into two pieces, if desired.
Enjoy a taste of sunny California.