Copycat Air Force One Veal or Chicken Piccata
teresas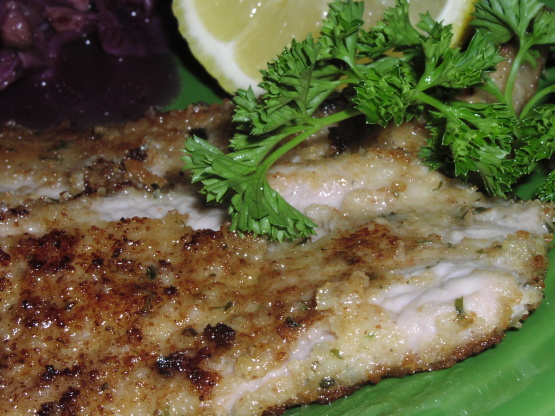 This recipe had been sitting in my recipe box for several years waiting for me to give it a try and I am so glad I finally got around to tasting it. The magazine clipping claims that this is a recipe used by the chef on the US President's official plane, Air Force One. This is so very juicy and so scrumptious.

Top Review by Latchy
I will fly on this airline anytime. I didn't have Italian seasoned breadcrumbs so added Italian seasoning to breadcrumbs. I do think the lemon zest together with the Italian seasoning makes this the best veal schnitzel I have had. I served this with a baked potato with sour cream and mixed salad leaves and it was food fit for a king. Would work really well with chicken, which I will try next time.
Whisk together eggs and milk in a small bowl and set aside.
Mix bread crumbs and lemon zest together in a shallow bowl.
Heat a large skillet over medium heat and melt some butter in it (as much or as little as you prefer- use less if using a nonstick skillet).
While butter is melting, dip veal pieces into egg mixture, then coat with crumbs mixture.
Pan fry in melted butter until cooked through, just a few minutes per side (time will vary based on how thinly you have pounded your cutlets)- until cooked through and no longer pink inside, but still juicy.
Season with salt& pepper to taste.
Sprinkle with a bit of fresh lemon juice to taste and serve immediately.