Copy-Cat Hoito Finnish Pancakes
willydog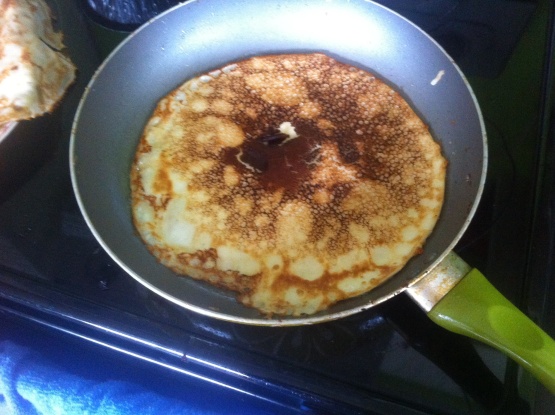 This recipe tastes almost the same as the finnish pancakes at the Hoito in Thunderbay ON.

Top Review by jason
My Grandmother and Aunts used to work at the Hoito as they were all Finish and lived down the street. Here's my Grandma's recipe I got out of her hand written recipe book. She once told me that the Hoito uses her Mom's recipe for pancakes. <br/><br/>4 eggs<br/>2 cups Milk<br/>1 Cup Flour<br/>1 pinch baking soda<br/>1/2 tsp salt<br/><br/>Throw it all in a blender and combine it all. Let it rest 1/2 hour or whatever.<br/><br/>I've never added butter to the batter but would try. I also add 1 tsp vanilla, and a little bit of sugar. <br/><br/>I like to melt 1/2 a cup of butter so that when you're frying your pancakes you have already melted butter and don't have to wait for it to melt each time. Also I think it's important to use a cast iron pan. I usually set up 2 and whip out pancakes.
Combine and whisk all ingredients until smooth.
Let the batter rest for 30 minutes (or sit in fridge overnight).
Heat non-stick or lightly greased pan to medium.
Pour in a thin layer of the batter just so it covers the bottom.
Once it is golden brown on one side, flip and cook the other.
Serve with maple syrup, butter, fruit, or jam.