Coppertone (Rum & Coke . . . Sort Of)
Annacia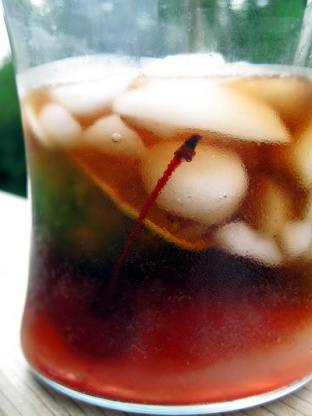 Rum strikes again. . . a variation of Cuba Libre! What's you're guess on how it got it's name? Basically the recipe is a 1 to 3 ratio of rum to coke, but RZ wanted actual measurements. Don't understand why; 1-3 ratio seems like a better international measurement to me!
1

ounce coconut rum

3

ounces cherry Coke (or Pepsi)
1⁄2 lime, adjust to taste
ice
Pour 1 part rum into glass with ice.
Add 3 parts Cherry Coke.
Squeeze the Lime and drop into as garnish.