Copper River King Salmon With Berry-Ginger Salsa
Prep 15 mins
Cook 11 mins

From Ray's Boathouse in Seattle, Wa. This sounds different and good.
Directions
Salsa:
Using a food processor, puree 1/2 the fresh berries.
Add whole berries and pureed berries into a mixing bowl.
Add the rest of the ingredients (except Salmon) and mix well.
Salmon:
Brush fillets lightly with oil.
Position on broiling pan, and place 4 to 5 inches from heat.
Broil approximately 11 minutes per inch of thickness.
Serve with blueberry salsa.
Reviews
Most Helpful
Excellent! The blueberry salsa is absolutely delicious. I quartered the recipe and didn't add mint (I'm not a huge fan of mint overall). I love the flavor and texture combinations. My husband usually doesn't eat much or any of extra sauces/salsas that accompany the protein, but he went back to put more of the blueberry salsa on his salmon. A first! Tucking this into my best of 2015 file. Thank you!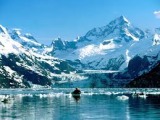 I really enjoyed the salsa alongside the salmon. I just added a bit more bell pepper for the crunch. I think the only way I eat fruit these days is in a salsa!
Hubby and I went camping in beautiful but remote Porkies of Michigan so made wild caught Coho salmon using this recipe. I made the salsa the day before at home where I have a blender, kept it chilled in RV fridge and enjoyed a glass of white wine before, paired the salmon with Asian Pasta Salad by lauralie41 and for dessert enjoyed s'mores. Fine dining after all day hiking escarpment trail---nothing could be better. I forgot oil (at home) but did season salmon with salt and pepper prior to baking. Timing was correct for salmon but not too sure about salsa's appearance but definitely complements salmon and is healthy. And it certainly goes with my fine tableware. Lol!Thank you lazyme for sharing. Made for Culinary Quest 2014 for Cruising Culinary Queens.