Dotty2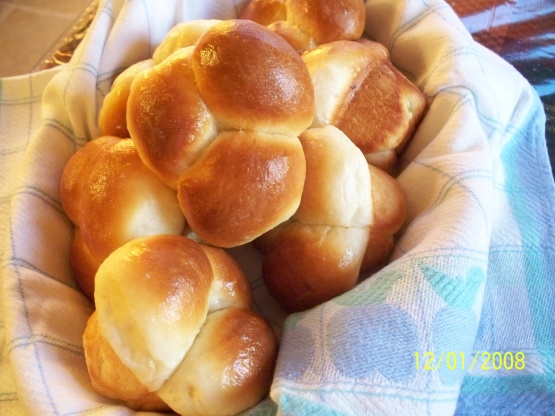 This makes a sweet flavored dough that can be baked plain, or filled with spices, nuts, raisins or other fruits. Makes for an easy brunch item, mix the dough and shape the might before, then pull out of the refrigerator and quickly bake when ready.

great recipe man, simple and easy. after making the dough and letting it sit over night, i cut two nice sized chunks (about the size of a baseball) and knead them in a little more flour, just so they weren't sticky like pizza bread. then i flattened them out in a long oval shape, and put a layer of pizza sauce, then mozzarella cheese, then pepperoni, then more cheese, and more pepperoni then i closed it up with eggwash and made my own pizza pockets, SO DOPE!
Combine 2 cups flour, dry yeast, sugar and salt in a large mixing bowl, stir to blend.
Add the butter to the center of the flour mixture.
Heat the milk and water to simmering.
Pour liquids over the butter.
Beat the batter with a mixer for 2 minutes.
Add the eggs and 1 more cup of flour.
Beat for another minute.
Turn batter out onto a floured board and knead for 5- 10 minutes, until the dough is smooth and elastic.
Cover the dough with plastic wrap, then a tea towel.
Rest the dough for 20 minutes.
Punch the dough down.
Divide the dough into desired size pieces and shape into desired forms.
Place formed rolls on a greased baking sheet.
Brush tops of rolls with cooking oil.
Cover loosely with plastic wrap.
Refrigerate 2- 24 hours.
Remove from refrigerator and let stand at room temperature for 20 minutes.
Heat oven to 350 degrees.
Bake rolls for 20 minutes.
Remove from pan immediately, cool on wire rack.