Cool Turkey Salad (For Pita or Sandwich)
PaulaG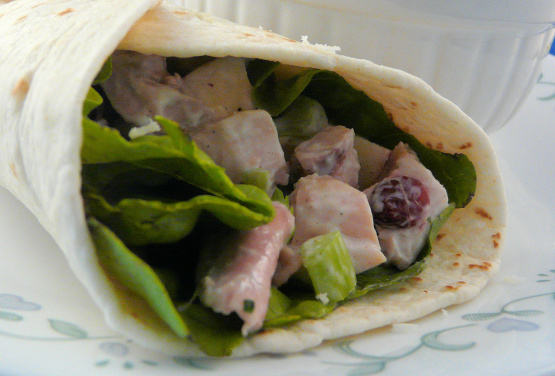 This came from a Sun-Maid Raisin advertisement. I'm sure this would be just as lovely with chicken breast.

Very tasty. I used chicken I had in the freezer, chopped it quite fine in the food processor, followed by the apples and celery (which,by the way did a nice job of pre-cleaning the machine). Then added the raisins. I added some spices to the light mayo before mixing it all together: turmeric, anise seeds, salt and pepper. I can imagine adding chopped pecans too. Nice recipe which uses pantry staples. The texture as I made it, was fine enough and cohesive enough to make a great sandwich filling.
2

cups coarsely chopped cooked turkey breast
1⁄2 cup diced celery
1⁄2 cup diced red apple
1⁄3 cup raisins
1⁄3 cup low-fat plain yogurt or 1⁄3 cup reduced-calorie mayonnaise
salt and pepper
pita bread or other bread
Combine turkey, celery, apple, raisins, and yogurt in a medium bowl. Season to taste with salt and pepper.
Serve in pita, with a cruncy lettuce leaf.