Bergy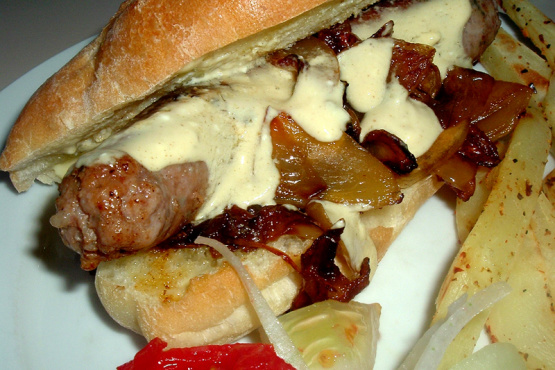 A slightly different way to enjoy your favourite barbequed sausages.

Top Review by Bergy
I did enjoy the yogurt mustard combination sauce. I bought English bangers for the recipe as I thought it appropriate to wish you Bon Voyage on your exciting trip. For the onions I did something a bit different- I made Caramelized onions in Crockpot Carmelized onions and then added them to the pan while I cooked the bangers. Served with oven fries - absolutely brilliant! The picture doesn't do the taste justice
Place the sausages onto a preheated barbecue and cook, turning occasionally, until cooked.
Meanwhile, fry the onions and thyme in the oil until browned.
In a small bowl, mix the yogurt and mustard together.
Place the sausages in the rolls, pile the onions on top, slather with mustardy yogurt and eat with plenty of napkins!
Serve with a pile of your favourite crisps or side dish.