Cool Cucumber Salad and Sooooo Easy
Kiwi Kathy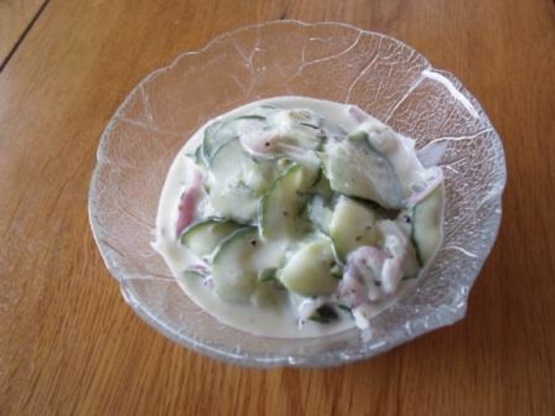 My wonderful mother-n-law gave me this recipe and it is always requested for picnics or family get togethers. The herbs can be subbed at your discretion, or added to the original recipe. Enjoy ** time does not include refrigeration time

A totally delicious way to serve cucumbers. I made as written, adding chilli flakes, oregano and some fresh chives. My homemade mayo was quite runny so I could have used less milk, but that wouldn't apply to everyone. Thanks so much for posting.
in medium size bowl blend together milk and mayonaisse, add herbs or peppers if using.
slice cucumbers wafer thin add to mix.
slice onions thin add to cucumber mix and.
blend together.
add s & p to taste.
refrigerate at least 1 hour, stir before serving.
I often make this early in the morning for dinner or let marinate ovenite (covered).