Cool Cucumber and Black Bean Summer Salad
PaulaG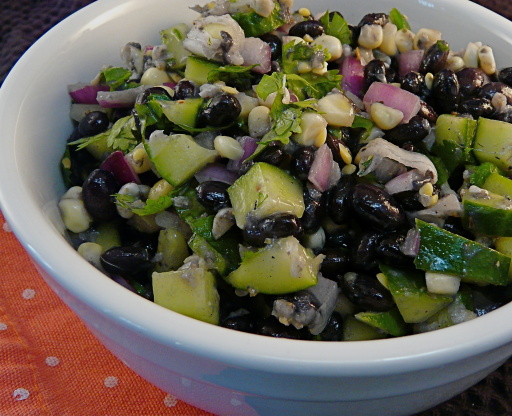 A twist on the usual black bean and corn salad. Great in summer, but I love it year round! A nice, fresh, cooling salad for hot days. ^_^

I made this as a salsa for a get-together. I changed the following: Two handfuls of cilantro, 1 and a half jalapenos, 1/2 teaspoon of cayenne pepper instead of 1/4. I also added half a large tomato since I had it hanging around from breakfast. Although I have now made this a spicy cucumber salad, it is still one of the best (and easiest) things I have made in a long time. Never would have thought black beans/cucumber/corn would go so well together. Love it!
Make sure everything is drained well, mix everything in a bowl and serve! Great alone, as a salsa for chips, or on a taco salad!
(If you find your red onions garlic a little too spicy and hot, separately microwave them for 20-30~ seconds or longer depending on the strength of your microwave, and then add them.).