gailanng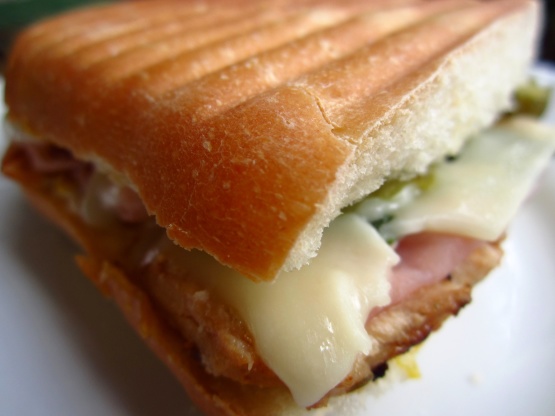 Great for soup and a sandwich.
I grew up and lived many years in a Florida city with a large Cuban population. Traditional Cuban sandwiches use ordinary, yellow salad mustard, include only about half as much pork as ham and add sliced, sandwich dills. As with all foods, nothing is written in stone, but sometimes traditional recipes are the best.
Spread 8 slices of bread with Dijon mustard.
Sprinkle with cilantro.
Layer pickle slices and shredded pork on four of the slices.
Top each sandwich with a plain slice of bread.
Layer ham and Swiss cheese, then remaining bread slices mustard side down.
Press sandwiches together.
In a 12 inch pan melt butter over medium heat. Place sandwiches in the skillet. Place another skillet on top of your sandwiches using it as a weight.
Cook 3 - 5 minutes. Turn and add more butter if needed. Cook another 3 - 5 minutes more or until toasted and cheese is malted.
Cut in half and serve.