Cool Chinese Noodle in Peanut Sauce
chia2160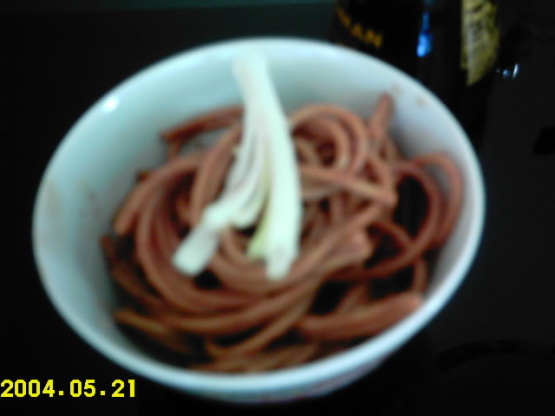 A very popular Chinese noodle in Taiwan. This is my dad's favorite dish in the summer.

What a delicious dish! I had tasted a similar recipe in a favorite restaurant and have been hoping to find a version to make at home for several years. Well - this one was perfect. I loved the taste of the sauce - all those ingredients pack in so much great, unique flavor. I chose to add all of the optional veggies and stirred them right in with the noodles, then waited for this to chill a bit before tasting it and like the previous reviewer, sprinkled sesame seeds on top of the finished product. The recipe makes a lot of extra sauce - I found that I only needed about 1 cup (full batch made 2 1/4 cups).
Cook noodles in a large pot of boiling water over medium heat.
Cook until barely tender and still firm.
Drain immediately and rinse with cold water until cold.
Drain well and toss noodles with (2 Tbsp) dark sesame oil so they don't stick together.
FOR DRESSING: combine all ingredients except hot water in a blender and blend until smooth.
Thin with hot water to consistency of whipping cream.
For garnish, peel flesh of carrot in short shavings about 4" long.
Just before serving, toss noodles with sauce.
Garnish with cucumber, green onion, and carrot.
Serve cold.