loof751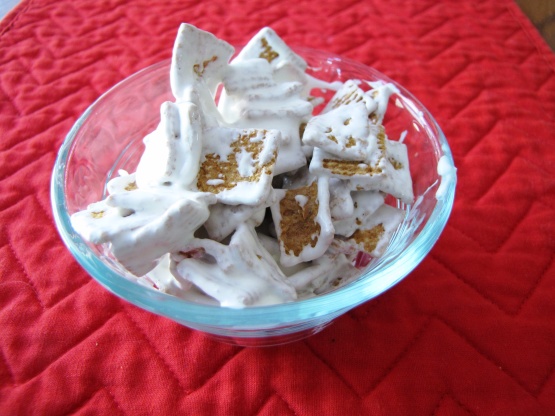 This is a great way to get the grains and have that little taste of sweetness and sin.

Oh yeah - this is great comfort food! Too sweet for me for breakfast but great for an afternoon or bedtime snack, when the ol' sweet tooth starts kicking in. I used Golden Grahams cereal and ate it right away, while the cereal was still crunchy. This was a real treat - thanks for sharing your idea! Made for Spring PAC 2010
1⁄4 cup Cool Whip
3⁄4-1 cup crunchy breakfast cereal
Take the Cool Whip and set it to thaw slightly.
Then take your choice of cereal, mine is typically cocoa pebbles or whatever that chocolate cereal is. You can easily use any that you think may work.
Be careful to use only what the box suggests as a serving though. No one wants too much cereal or too much cool whip.To be safe I use the little sample boxes that you can buy in packs containing a variety of different brands at Walmart or Winn Dixie.
Mix the two ingredients very thoroughly.
Now you can either chill it in the refrigerator or you can eat right away.I try to let is soak and get soggy. But that is just me.
If you want to go non-healthy, you could add your choice of syrups and treat this more like an ice cream treat.