Cooking Light's Seven-Layer Salad
Junebug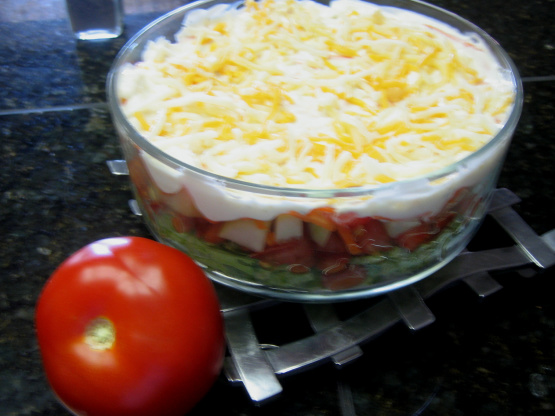 From the June 2006 issue of Cooking Light magazine. They recommend serving this with their Creamy Stove-Top Macaroni and Cheese for a complete meal. I like the addition of the kidney beans as a protein source. Can be whipped up quickly for dinner, or made ahead and refrigerated overnight. I haven't made the full salad, and instead downsized to fit in a small loaf pan for just my Hubby and myself.
Layer lettuce, beans, tomatoes, cucumbers, and carrots in that order in a large bowl.
Combine sour cream and ranch dressing.
Spread dressing mixture over carrot layer.
Top with shredded cheddar cheese.
Cover and chill.