Cooking Light Spaghetti and Meat Sauce
Redsie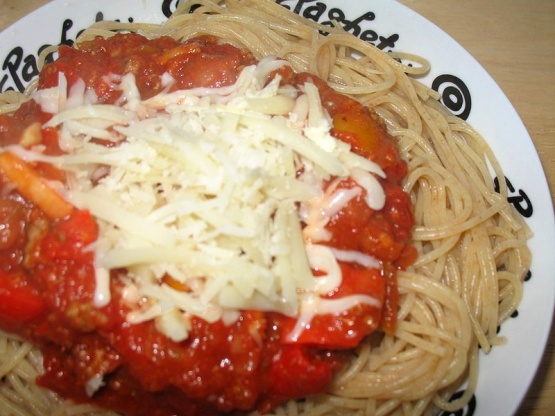 My new favorite recipe for Spaghetti Sauce! The secret ingredient is.... roasted red bell peppers! Cooking Light adapted recipe.

My kitchen is currently being remodeled. I have been challenged these past few weeks to create nutritious meals in my laundry room using only an electric skillet, crock pot and microwave. Here is a really easy way to make this delicious sauce. Put all of the ingredients into a crockpot (you'll have to brown the meat first) and let it simmer all day. How easy is that? This recipe makes a lot so store it in freezer bags for a quick meal when you don't have time to cook. I also served this with some italian sausages that were simmered in beer for about an hour. Yum. Thanks for posting this recipe. We all enjoyed it.
Cook the meat in a large Dutch oven over medium-high heat until browned, stirring to crumble. Drain meat well, and set aside. Wipe out pan with a paper towel, and coat with cooking spray.
Place the pan over medium-high heat until hot. Add the diced onion, diced bell peppers, mushrooms and minced garlic, and sauté 5 minutes or until tender. Add zucchini, and sauté 5 minutes. Drain vegetables. Return meat and vegetables to pan, and stir in dried oregano, salt, black pepper, and crushed red pepper. Cook mixture over medium-high heat 5 minutes. Add sugar, crushed and stewed tomatoes, tomato paste, and roasted red bell peppers to pan, and bring mixture to a boil. Reduce heat, and simmer 1 hour or until sauce is thick. Serve the meat sauce over pasta.