Cooking Light Garlic Chicken Pizza
Ms B.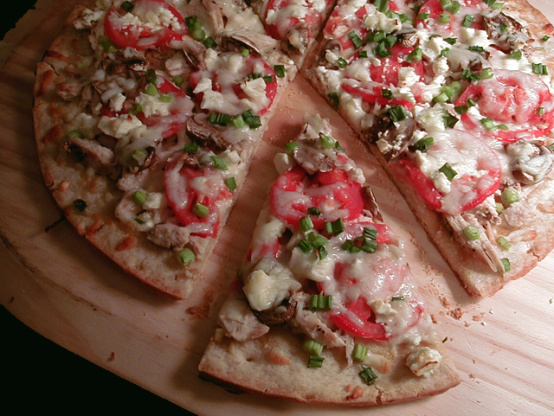 quick lighter version of this pizza, using a thin boboli crust. Very light meal, serve with a side salad

We liked this pizza recipe. We made a home-made crust. I liked the combination of chicken, cheeses, garlic, shrooms and tomatoes. DH did not love the red wine vinegar/mustard combination. He just thought it was ok. This was a very easy to put together recipe and much healthier than a store bought pizza. Thanks!
Preheat oven to 400°.
Combine first 3 ingredients, stirring well with a whisk. Place crust on a baking sheet; brush vinegar mixture over crust. Top with chicken, tomato, and mushrooms; sprinkle with cheeses and green onions.
Bake at 400° for 15 minutes or until cheeses melt.