Cooking Light Cilantro-Lime Chicken With Avocado Salsa
Linky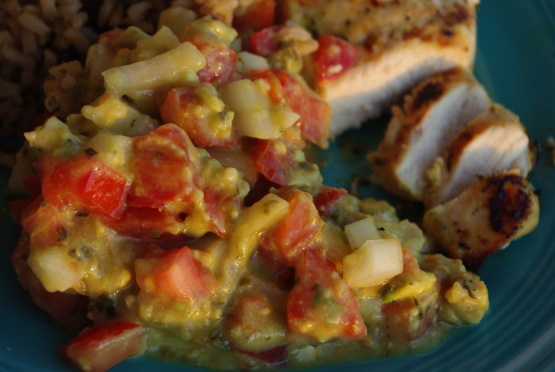 Fast: A three-minute dip into a pungent marinade is all that's needed to deliver big flavor to chicken breasts. Serve with saffron rice. Weight Watchers: 6 points per serving

This was fabulous! I added extra lime juice to the marinade and a tablespoon of fresh minced garlic. I needed everything ready to cook up quickly in the evening, so I made the salsa in the afternoon and marinated the chicken for 5 hours or so. So glad I did! The chicken was amazingly moist and tender. I also added some cilantro to the salsa and doubled the amount of everything in the salsa except for the avocado. It was light and fantastically flavorful. Definitely making this again!
To prepare chicken, combine first 4 ingredients in a large bowl.
Toss and let stand 3 minutes.
Remove chicken from marinade; discard marinade.
Sprinkle chicken evenly with 1/4 teaspoon salt.
Heat a grill pan over medium-high heat.
Coat pan with cooking spray.
Add chicken to pan; cook 6 minutes on each side or until done.
To prpare salsa, combine tomato and next 4 ingredients (through pepper) in a medium bowl.
Add avocado; stir gently to combine.
Serve salsa over chicken.